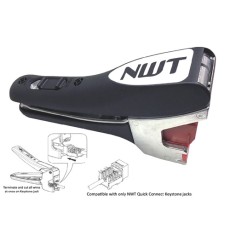 Quick Connect Tool from New World Telecom is designed to terminate and cut all 4 pairs at once on Cat.6 & Cat.6A Keystone jacks.
The Quick Connect Tool terminates and cuts wires instantly saving 70 percent of installation time.
Lightweight aluminum body is easy to handle and carry in a toolbox.
Features
Terminates and cuts all 3 or 4 pairs of UTP at once. UTP Cat.3, Cat.5E, Cat. 6 & Cat.6A.

Works only with NWT Quick Connect 90 deg. Keystone Jacks.

Part Numbers.: NW-108K6AQC-XX, NW-108K6QC-XX, NW-108K5EQC-XX, NW-106K3QC-XX

Lightweight aluminum body design.

Ergonomic grip and easy to use.

Rugged construction.

Extra (termination & cutting) module included.